Tampa Wrongful Death Attorneys
Fighting For Families in Florida
When a family member dies due to the negligence of another's action, you might be sad and frustrated. If this scenario does happen, you need the skill of our Tampa Wrongful Death Attorneys to hold the responsible part accountable for their actions. We offer free consultations, call today.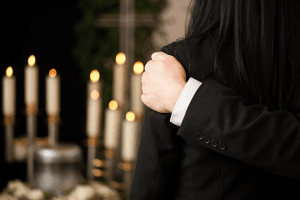 The sudden loss of a loved one is a devastating and often traumatic experience, especially if it resulted from someone else's negligent behavior. This can be a very emotional time, and you may be struggling financially. Filing a wrongful death lawsuit can never replace the loss of a loved one, but it can go a long way in alleviating your burden and providing emotional closure. If you have suffered the loss of a loved one on account of someone else's recklessness, it is imperative to contact an experienced Tampa Bay wrongful death attorney right away. We understand the hardships and complexities that a case like this can bring, and we are determined to aggressively pursue the compensation you and your family deserve.
Who May File a Wrongful Death Claim in Tampa?
The laws regarding wrongful death lawsuits vary from state to state. In Florida, a wrongful death lawsuit is filed by a personal representative on behalf of the decedent's estate. This personal representative may be named in the deceased person's will or can be appointed by the court. Although a wrongful death claim is filed by a single representative, all individuals who carry an interest in the case must be listed. In accordance with the Florida Wrongful Death Act, the following are eligible for compensation in a wrongful death lawsuit:
Immediate family members, such as spouses, children, and parents
Any family members who were financially dependent on the decedent
Domestic partners financially dependent on the decedent
In some cases, any individual who suffers financial losses may be eligible to receive compensation regardless of their relation to the deceased. Of course, this is all determined by the circumstances unique to each wrongful death claim.
Statute of Limitations for Wrongful Death Lawsuits in Florida
When filing a wrongful death lawsuit, it is also important to make sure your claim is filed on time. The Statute of Limitations for wrongful death in the state of Florida sets a two-year deadline after the passing of the deceased for filing your claim. If your claim is not submitted within this timeframe, then you will lose your right to seek compensation in court. To help determine if you are eligible to file a wrongful death claim and to ensure it is processed before your statute of limitations expires, seek the counsel of an accomplished Tampa wrongful death attorney.
Causes of Wrongful Death
In a wrongful death lawsuit, the decedent's estate must prove that the accident was caused by negligence. To do this, the plaintiff must show that the defendant acted recklessly and did not offer due diligence owed to the deceased. Common claims for wrongful death involve:
Drunk driving
Motor vehicle accidents
Medical malpractice
Unsafe premises
Construction injuries
Product liability
Whether your case is against a drunk driver, business owner, or product manufacturer, an experienced Tampa wrongful death attorney will help you and your family recover any damages you have suffered.
What Types of Damages Can Be Awarded?
A well-practiced wrongful death attorney will aggressively pursue any compensation that you and your family are eligible for. Furthermore, they will help you determine what your case may be worth. Damages that can be awarded in a wrongful death case include:
Medical and funeral expenses
Loss of financial support and services provided by the decedent
Loss of the decedent's future income and benefits
Loss of value to the decedent's estate
Emotional pain and suffering
All damages must be proven to have been a result of death. The court will calculate the monetary value of these damages based on several factors. In order to determine the replacement value of the decedent's services, the court will examine the claimants' relationship to the deceased. Likewise, loss of future income is based on the decedent's lifetime expectancy had he or she survived. Depending on the circumstances, there are other damages which can also be awarded. Compensation for emotional pain and suffering can be recovered by any surviving children or spouse of the deceased. However, loss of parental companionship in a wrongful death suit only applies to minors. If the deceased leaves behind a surviving spouse, then adult children are not eligible to claim damages for lost parental guidance. To sort out the various legalities surrounding wrongful death lawsuits, it is best to speak with an accomplished attorney.
How a Tampa Wrongful Death Attorney Can Help
If you have lost a loved one in the Tampa Bay area due to someone else's negligence, we are here to help. Filing a wrongful death lawsuit can be both complicated and overwhelming, so it is best to have a knowledgeable attorney by your side. An experienced Tampa wrongful death attorney will provide both legal guidance and emotional consolation to ensure that you and your family receive the compensation you deserve. Contact us today for a free consultation.
Frequently Asked Wrongful Death Questions
What should I know about wrongful death claims?
A wrongful death claim in the state of Florida is a claim that's brought under a very specific statute. You have two years to make the claim. You need to find a firm that can help you in setting up an estate. The personal representative is the only one who can bring the claim for the wrongful death for all of the statutory survivors. Find an attorney who can also lead that representative through the claim that's made for all of the statutory survivors, meaning the spouse, children, and in some cases, even parents, depending on the particular claim.
How should I choose my attorney?
To choose an attorney for a wrongful death case, you need to do your research. There are so many different ways these days for you to find out what the credentials are of an attorney, and it doesn't mean that you need to rely on the ones that advertise on TV. Those attorneys on TV may not necessarily have the credentials that you need to handle a wrongful death case. Get online, look at Martindale-Hubble, and see if the lawyer has the highest rating, which would be an AV rating. Go to Super Lawyers; which is a place that has lawyers rate one another from the defense and from the plaintiff side. If the lawyer that you're looking to hire is a super lawyer, you know that they've been reviewed by peers on both sides. Look at Avvo. Avvo rates attorneys as well. Look at whether or not the attorney you're thinking about hiring is active in the plaintiff side of litigation. Are they a member of the American Association for Justice? Are they a member of The Florida Justice Association? Have they been active in lobbying on behalf of the rights of victims? Research your lawyer and pick the right one.
How do I get compensation? What compensation can I get?
Generally in a personal injury wrongful death, where your loved one is struck and killed by a motor vehicle or driver, or something like a slip and fall where they hit their head unnecessarily and they pass away, the type of damages that can be recovered is, first, the claim for all damages brought by the personal representative. Then the immediate family members – the spouse, the children, and if no children, in some cases the parents – can bring claims for their loss of companionship, society, affections, and all of their non-economic pain and suffering. There's also a claim for loss of what we call "net accumulations to the estate." What that means is the amount that was being saved. As we live, we consume money because we have to eat, we have to be dressed, we have to have housing. You can't just recover lost wages, but you can recover a loss of net accumulated money to the estate, so savings records and those kind of things become very important in making a claim for all of the damages for a wrongful death.
Who can bring a wrongful death claim?
Often, we're asked whether or not a brother or a sister can bring a claim for a sibling that arises from wrongful death. There's a specific statute in the state of Florida. If there's a spouse, the spouse has standing, first and foremost, to bring that claim, and they have the right to be the personal representative. If there are no children, sometimes a sibling can serve as the representative, but it's unlikely. There are very few scenarios where a sibling can bring a claim, unless they are just going to be the personal representative for children of the decedent, so that they serve in that capacity because the children are underage.
How much do I have to pay an attorney?
There are litigation costs that are pretty fixed. It costs around $500 in the state of Florida to file a wrongful death lawsuit or any kind of lawsuit. Often, you need an autopsy to prove the cause of death. Autopsies can be fairly expensive if they're not done for statutory reasons. If a loved one dies unattended, even if it's due to the fault of someone else, then the county will do an autopsy. If you need an autopsy, that's something that's going to cost around $5,000. Often, those are costs that a law firm who's investigating your case will front for you and take the repayment out of the recovery of the lawsuit. Sometimes you also need expert witnesses. Depending on the nature of the expert witnesses – whether it's a pathologist, a neurosurgeon, a spinal surgeon, an emergency room physician – they range anywhere from $400 an hour to upwards of $1,200 an hour, and they bill for every hour that they work on the case. Lawyers who handle wrongful death cases will pay those expenses up front and receive the compensation or repayment of those expenses from the recovery in the lawsuit. The main thing that you need to do in order to make sure that your wrongful death case is thoroughly investigated is contact a firm that is accustomed to those issues and the handling of wrongful death matters.
How much is my case worth?
Early on in wrongful death cases, we'll have clients who want to know about the value of their case. Yesterday, I sat with a spouse who lost her husband while she was deposed for four or five hours, so it's early in the litigation. That's the first deposition that's been taken. After a deposition, she wanted to know, "What's the value of my case? Can I go for the maximum?" I told her the maximum is a trial, because the maximum is whatever a jury says your case is worth. There will be a lot of steps along the way. Finding out what the coverage is of the wrongdoer sometimes limits the recovery in the case. Sometimes there are things that are found out during the deposition stage where the case is weakened. It depends on how strong liability is, what the value of the non-economic losses are, pain and suffering, how many claimants there are, whether or not there is a loss of household services, and whether or not there is a lawsuit of accumulation or savings to the estate. If the person who dies was working, you can't just recover their lost wages, but you can recover what they were saving. If they were a big saver, that makes that case and claim more valuable. The economic damages like that drive the value of the case, but so does the coverage because it's easier to collect insurance coverage money than it is to try to collect from somebody personally. That's why during his civil litigation, OJ Simpson bought his house here in Florida. He did that because Florida protects a homestead. You can't put somebody outside of their home and collect the value of that homestead. It's very difficult to collect from individuals, so insurance coverage often ends up, sadly, being the driving force in the value of a claim.
How long do I have to bring my claim?
Yesterday I sat through depositions in a wrongful death case; a claim was being made by the spouse of someone who was lost through what we allege as medical negligence. That spouse has two years. No matter how the claim arises, you have two years from the time of the death within which to bring a claim. An estate must be set up and if there are any pre-suit requirements, those need to be completed prior to the two-year anniversary of that claim. You only have two years, and you must preserve your ability to bring that claim by contacting an experienced lawyer who handles wrongful death and who knows what those steps are so that they can help you. make your claim.
Tampa Wrongful Death Attorneys
Contact our experienced Tampa Wrongful Death Attorneys if your family is faced with the tragedy of a wrongful death. We will fight for you and your family!
Our
Tampa Personal Injury Attorneys
perform an extensive investigation to preserve evidence and provide the expert witnesses necessary to win your case. Our firm is ready to take on the insurance companies and fully litigate your interests if we are not able to resolve your personal injury matter out of court.
Morgenstern and Herd have achieved an AV® Preeminent™ Martindale-Hubbell® Peer Review RatingSM—a distinction signifying the highest quality legal work, professionalism, and ethical standards.