Tampa Truck Accident Lawyers
Big rig tractor trailers weigh thousands of pounds more than a car and can dominate the lanes of a highway. If you were seriously injured in a truck or by a semi, contact our experienced Tampa Truck Accident Lawyers to fight for your full recovery. We offer free consultations to anyone injured in a motor vehicle.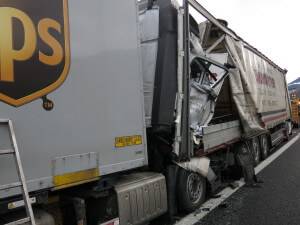 Being involved in a
collision with a truck
is completely terrifying. These vehicles are absolutely massive and you probably have sustained some very serious and substantial injures. If you are suffering damaged after being hit by a truck, contact our experienced Tampa truck accident lawyers to fight for your full recovery. We offer free consultations to anyone injured in a motor vehicle accident. The pain you are in is probably immense. If you were hit by a truck, that is tens of thousands of pounds of impact that you and your car took. If you are here to read this, you are frankly lucky to still be here. If in an unfortunate event, you are here because you lost your loved one in a truck accident, please call us today. We can help you file a wrongful death case against that negligent party.
A Semi-Truck Accident Can Devastate Your Life
Large trucks are an indispensable part of interstate commerce, especially when the Tampa Port Authority claims to be the largest cargo tonnage port in Florida. The
National Highway Traffic Safety Administration
(NHTSA) states that more than 4,000 people are killed and injured each year in truck accidents. Because 18-wheeler big rigs can weigh between 10,000 to 80,000 pounds with multiple trailers, people in cars will always represent a disproportionate percentage of fatalities in Florida truck accidents. Tampa Truck Accident Lawyers Morgenstern & Herd, PLLC handle truck accident and wrongful death cases where often multiple parties may be at fault—negligent truck driver, commercial owner or operator, or a truck manufacturer. We will have to prove their fault and the exact cause of the accident. Although complicated state and federal regulations govern cargo, loading, weight, maintenance and operation of big rigs, serious truck accidents are common, and may be due to:
Driver fatigue
Distraction
Lack of training
While there may be these safety regulations in place, there are certainly instances where not everyone complies to the rules. There is often provable negligence. We must collect evidence in order to prove it. For each case, we also review many aspects of the truck's operation:
Manuals
Safety material
Interstate commerce materials
Truck company's training procedures
Qualifications of truck driver
Background check of truck driver
Medical background of truck driver
If anything is found to be out of order, or lacking, we may be able to use this to benefit your truck accident case.
What Should I Know if I Was Injured by a Truck Driver in a Car?
Following a Tampa truck accident, there are three integral steps that you must take. The first one being taking documentation of the scene of the accident. This can be done in a few ways. You should take photos and videos as much as you can while staying out of harm's way. Use proper caution; don't walk into the highway with moving traffic to get photos, but try to take a few visual recordings of what the scene looks like. This includes skid marks, both vehicles, the entirety of the scene, as well as any fragments on the road. Photos and videos are a great way for us to determine a lot about what happened to cause the accident. Calling 911 is also an essential step. The police will come, take a report and collect vital information. You as well can ask witnesses for contact information and collect insurance info from the truck driver and any other drivers involved. Next, you must seek medical attention. Most likely, after a truck accident, you will be injured. What you don't know quite yet is the extent of your injuries. That is why it is so important to go and see a doctor. If you think you need to get on the ambulance, do so. Your health is far more important than anything at this point. Get the treatments and then follow your doctor's instructions. We cannot stress that enough. It is not only a benefit to your own wellbeing, but also to your ability to collect rightful compensation. Lastly, if you want that rightful compensation, the best way to get it is to hire an experienced lawyer. You may be able to represent yourself in theory, but you most likely won't get anything close to what you deserve. Our Tampa truck accident lawyers are trained to push back on the insurance companies whose job it is to give you as little as possible. We will not let them bully you into taking a low settlement offer. We will not let them make you the at-fault party. We will fight for your rights.
Hire an Experienced Lawyer
The Tampa truck accident lawyers at Morgenstern & Herd, PLLC are formidable opponents. We always strive to settle cases out of court first but we are ready to take your case to the next level if necessary. Our Tampa Truck Accident Lawyers use many experts that help us prepare every case—medical experts, truck-driving specialists, and accident reconstruction specialists. Contact our experienced Tampa Truck Accident Lawyers if you or loved one has been injured or killed in a semi-truck accident. We will fight for you!
Frequently Asked Questions | Florida Truck Accidents
What should I know about a truck accident claim?
A commercial accident claim is different from an injury accident claim because of the weight of the commercial vehicle. A commercial vehicle is defined under the federal law as being any vehicle that weighs over 10,000 pounds. Obviously, that type of vehicle can injure you much more easily. If you've been injured by a commercial vehicle, you should understand that they're required to carry at least $750,000 in injury coverage. Because you're dealing with a large amount of coverage, as opposed to a regular car that weighs around 3,500 pounds, you want to contact an injury lawyer who handles commercial crashes, so that they can guide you in seeking the right kind of care and in giving the right information to your insurance company and the adverse insurance company. If you're injured in a commercial vehicle accident, the first thing that you want to do is make sure that you get your injuries assessed. Some of them will be obvious, but others may not, so you need to see a medical provider. Then once you've taken care of your injuries, you want to contact a lawyer to make sure that you get compensated for those injuries.
How do I pick the right attorney?
We're often asked about our credentials and how you know as a consumer who the best attorney is for your case. I would suggest a couple of things. You want to do some background research on an attorney that you're thinking about hiring. You want to know what their qualifications are, what kind of cases they've handled, what their background is. For example, our firm involves two attorneys. Myself, I have a background in the medical field and am familiar with complex physiology and anatomy, and my partner is an engineer, so we both had careers before we went to law school. Do your research, talk to other consumers, look on the internet and Google attorneys that you're thinking about hiring.
What steps should I follow after the accident?
There are a lot of steps in a commercial injury claim. Let me give you an example. Last week we got a call from somebody who was injured in a regular vehicle but struck by a commercial vehicle. The important thing, first, is to make sure that you get your injuries taken care of, and this person had gone for initial medical treatment, but the emergency room is only going to treat those obvious emergency conditions. You need to be evaluated fully by someone who will make sure that they attend to all of your potential injuries. You should contact an injury attorney so that attorney can guide you to the right kind of medical providers, and the right information is given to your insurance company, and notification of the commercial carrier as well.
What mistakes should I avoid?
The mistakes you should avoid after a trucking accident are talking to the insurance company for the commercial carrier. You want to notify your insurance company and then determine whether or not you need a lawyer. You want a lawyer to talk to you and advise you before you speak to the adverse insurance company because anything you say can and will be used against you.
Who is liable for the accident?
In a commercial accident, there are two entities that you can sue. There is usually a commercial company, some company that the trucker is driving for; that's going to be one entity. That driver involved in the accident can also be named, and should be named, in the lawsuit. They're going to be covered under one commercial policy, but you should name all of the entities that are involved in the accident.
Should I talk to the insurance companies?
We get calls all the time with people who are involved in accidents with commercial trucking companies, and they get calls right away from the commercial carrier. That's not what you want to do. You don't want to talk to the commercial carrier because they'll use anything that they can, anything that you say, against you. You want to know what your rights are before you speak to the adverse carrier. The first thing you should do after seeking medical attention is to contact an injury attorney who handles trucking and commercial cases because they involve different laws.
How much is my case worth?
We often get asked how much money somebody is entitled to if they win their lawsuit. There is so much information that needs to be gathered. Until there are several assessments that are made, we cannot say for certain. An assessment on liability will be made. Questions will be asked such as, how strong is the case against the person who caused the accident? That's one factor. Another factor is how extensive are your injuries? The third factor probably is who you hire as an attorney. The insurance companies know who will handle commercial cases, who will settle commercial cases, and who will try them, and you want to be with a law firm who tries cases.
The Lawyers at Morgenstern & Herd, PLLC are a formidable opponent. We always strive to settle cases out of court first but we are ready to take your case to the next level if necessary. Our Tampa Truck Accident Lawyers use many experts that help us prepare every case—medical experts, truck-driving specialists, and accident reconstruction specialists.
Contact our experienced Tampa Truck Accident Lawyers if you or loved one has been injured or killed in a Semi Truck accident. We will Fight for You!
Tampa Car Accident Lawyer
Denny Morgenstern was accepted into the
Multi-Million Dollar Advocates Forum
, one of the most prestigious group of trial lawyers in the United States.