Tampa Birth Injury Lawyers
Florida Medical Malpractice Attorneys
If your child was born with birth injuries caused by the negligence of a medical professional, you might be worried about your child's future. Let our experienced Tampa Birth Injury Lawyers fight for your family and get the compensation that you are owed. Call for a free medical malpractice consultation.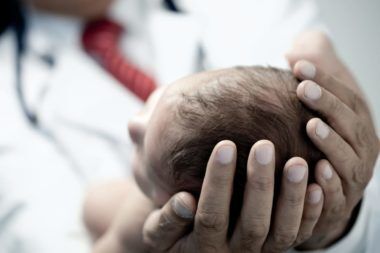 The stakes in birth injury cases are extremely high for your family. The Tampa Birth Injury Lawyers at Morgenstern & Herd, PLLC have extensive experience in this highly specialized area of malpractice litigation. Our lawyers welcome the opportunity to explain how we can help if you believe your child was injured as a result of a delivery room error or other birth-related negligence.
Download Our Free Medical Malpractice Guide
Birth injuries may occur when a physician or hospital nurse provides substandard care during the pregnancy or the birthing process. Devastating effects like paralysis, brain damage, and even death may happen to the mother and/or child. Other birth injuries that may occur include—
Cerebral palsy

Brachial plexus injury

Injury due to forceps

Paraplegia and quadriplegia

Learning disabilities

Nerve damage, including Erb's Palsy

Brain damage

Spinal cord injury

Bone fractures

Bruising and skin irritation

Internal bleeding

Shoulder dysplasia
Birth injuries may also be the result of the failure of the physician or hospital nurse to maintain cleanliness, communicate patient's condition to physicians, monitor, assess condition, and intervene in a timely fashion.
Our Tampa Medical Malpractice Lawyers at Morgenstern & Herd, PA have access to medical experts who help us to build a strong case and present your claim in the most persuasive manner.
Frequently Asked Questions About Birth Injury Malpractice
What Should I Do If My Child Was Injured at Birth?
There are a number of factors that are important to know about injuries that occur to babies during the birth process. The most important factor is that you have two years from the time that you knew that claim occurred. With a child, that statutory period can be extended to the eighth birthday because physicians don't always discover it within that two-year time period. It's important to talk to your physicians to find out if it was a difficult labor delivery, and if you feel like your baby isn't developing normally.
What is Retinopathy of Prematurity?
Some premature babies can develop abnormal blood vessels in the retina, causing the retina to detach and possibly leading to blindness. ROP is sometimes self-corrective, but other cases call for surgery. If a physician catches ROP soon after birth, an ophthalmologist can use a laser to prevent the abnormal blood vessels from growing, scarring, contracting, and detaching the retina.
What is Necrotizing Enterocolitis?
Necrotizing enterocolitis (NEC) is a gastrointestinal disease, mostly affecting premature infants where infection and inflammation cause destruction of the bowel or part of the bowel. This disease is the most common and serious gastrointestinal disorder among premature infants. It usually occurs during the first two weeks of life, after feeding has begun. Infants with this disease are more prone to infection and have some difficulty with blood and oxygen circulation and digestion.
How Can Coumadin Cause Birth Injuries?
Coumadin is an anticoagulant or blood thinner used to prevent the body from forming dangerous blood clots. This medicine is very dangerous to pregnant or breastfeeding women because it can cause birth defects to the unborn baby including:

Central nervous system defects
Spontaneous abortion
Stillbirth
Prematurity
Hemorrhage
Ocular defects
Fetal warfarin syndrome
What Should I Look For in a Medical Malpractice Attorney?
Experience matters most. You aren't just looking for an attorney with plenty of court time and peer recommendations, either, though these things are important. Generally, an attorney with some medical background will be more successful in Florida medical malpractice cases. All this information is available online, but you shouldn't stop there. Remember that you may spend years working with this person. You should meet face-to-face before deciding. You need someone you can trust, someone you're comfortable talking to, someone who won't bully you into a course of action you don't want to take, and, ideally, someone you like.
How Can I File a Medical Malpractice Claim in Florida?
In the State of Florida, you can't jump right away into filing a medical malpractice suit. You have to go through a pre-suit process, during which time your attorney will gather all relevant medical records and send these to an expert for independent review. This expert will provide an affidavit, which your attorney will send via certified mail to the medical provider. That medical provider will have 90 days to consult with an attorney and malpractice carrier, and at the end of that period must either admit or deny the claim. If the medical provider denies your claim, your attorney will file a lawsuit.
How Can a Medical Malpractice Case be Won?
To win your case, you need to do more than document substandard care. Substandard care per se does not cause damages. You need to prove causation – in other words, that the documented substandard care directly caused physical and/or emotional damages. In general, you also have to demonstrate catastrophic, long term, or permanent damages. If you recover before too far into your suit – and suits will, again, last years – you may only get enough in recoverable damages to pay your attorney and the expert witnesses you hired.
Tampa Medical Malpractice Lawyers Fighting for Clients with Birth Injuries
If your loved one has been seriously injured during pregnancy or birth, contact our Tampa Birth Injury Lawyers at Morgenstern & Herd, PLLC today to arrange a free initial consultation and preliminary case review. Our Lawyers handle all personal injury and wrongful death cases in Florida on a contingent fee basis.
If you or a loved one has been a victim of a birth injury in Florida, contact our experienced Tampa Birth Injury Lawyers to fight for your family!
Attorney Betsey Herd is a partner with Morgenstern & Herd, PLLC and has achieved the highest rating of 10 on Avvo.