The Florida Bicycle Accident Guide was created by experienced Tampa personal injury attorney Betsey Herd to assist injured residents earn the maximum compensation available for their case.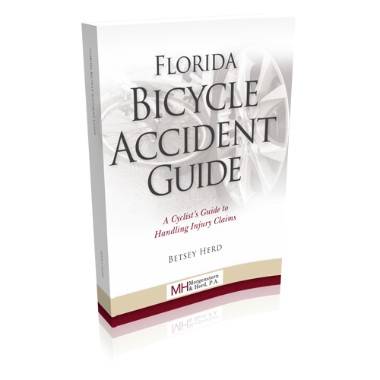 Have you been terribly injured after a bike accident in Florida? The fear you must have been in moments following your accident are indescribable. The frustration that you are probably feeling right now is completely understandable. We are here to help you take on the legal process of filing a bike accident claim so that you can focus your energy on your recovery. Please call us today for a free consultation.
Bicycle Accident Cases in Florida Can Be Complicated
If you have suffered serious personal injuries and/or property damage in a bicycle accident which occurred in Florida, we offer our sincere sympathy. Due to their vulnerability on the road, bicyclists can suffer catastrophic personal injuries which require significant medical treatment, or even death.
Bicycle accidents involving trucks, cars, other vehicles, objects, other bicycles or pedestrians are unfortunately very common. Nationwide, hundreds of bicyclists are killed and tens of thousands are injured each year.
Florida bicycle accident cases can be complicated. Make sure you protect your legal rights and options by hiring the right Florida bicycle accident attorney, so that you may receive the amount of money you rightfully deserve.
Hire Your Florida Bicycle Accident Attorney as Soon as Possible
First, it is very important to hire a Florida bicycle accident attorney as soon as possible. As we will address in a moment, the filing deadlines to protect your potential No-Fault benefits and lawsuit award should be dealt with immediately by you and your attorney.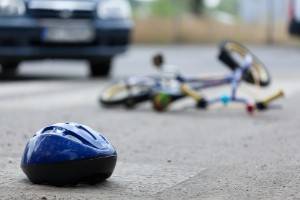 Hiring a strong Florida bicycle accident attorney as soon as possible can help your case by immediately performing a complete accident investigation, including taking photographs of the accident scene, and obtaining witness statements, police accident reports, and medical records.
Florida Follows "No-Fault" Rules for Bicycle Accidents
In Florida, if you are injured in a bicycle accident, your options to recover damages may be limited by the "No Fault" car insurance law.
Florida follows what is known as the "No-Fault" car insurance law. This means that if you are injured in a bicycle accident, no matter who is at fault for causing the accident, you must first file a No-Fault claim under either your own car insurance policy or the other driver's car insurance policy if you do not have your own car insurance.
No-Fault insurance will pay accident benefits to you for only a part of your medical expenses, lost wages and other damages. In order for you to file a lawsuit against the other driver to recover legal damages beyond what the No-Fault laws will pay, you must prove that you suffered a permanent or "serious" injury, such as either: significant scarring, disfigurement, loss of a bodily function, death, or where your medical expenses and lost wages are greater than $10,000.
Florida No-Fault insurance filing deadlines are short and require immediate action. Ask your attorney to help you file all necessary No Fault paperwork on time.
Determining the Liability and Case Value
If your injuries qualify as a "Serious Injury" and you decide to sue the defendant, or defendants in court for your bicycle accident, you and your attorney need to prove that the defendant or defendants you sue owed you a duty of care, that they failed to perform this duty of care either by their action or failure to act while driving, walking, or performing some other action, that the defendant caused your bicycle accident and is therefore responsible for your injuries and that your injuries resulted in money or other types of damages.
However, bicycle accident cases are complicated. For example, although a driver may have hit you, a second driver may have caused the first driver to swerve into your path. Road conditions and weather on the date of your accident also have to be taken into account, as does your own portion of fault in causing the accident, if any.
Overall, the types of damages that may possibly be awarded to you in a Florida bicycle accident case may include: medical expenses, rehabilitation expenses, lost wages, damages to your bicycle, loss of enjoyment of life, scarring and disfigurement, loss of companionship, emotional distress, disability, and pain and suffering, which is often the largest portion of damages awarded. Fortunately, Florida does not limit the amount of pain and suffering damages that may be awarded to you.
Also, if there is clear and convincing evidence that the defendant intentionally disregarded a known risk and acted with more than mere negligence in causing your bicycle accident, you may be able to collect additional "punitive" (or punishment) damages.
Please be aware that Florida follows a "Pure Comparative Negligence" rule. For example, this means that if you were found to be 70% at fault for causing your bicycle accident, then your damage award would be reduced by 70%. This would be defined as your proportion of fault, or "comparative negligence." Therefore, your personal level of fault, if any, in causing your bicycle accident is a very important part of your case.
Hire a Florida Bicycle Accident Attorney as Soon as Possible
It is very important to hire a Florida bicycle accident attorney as soon as possible after your accident. In Florida, bicycle accident cases must be sued against the defendant or defendants who caused the accident within 4 years from the date of the accident. This 4-year period is called the "statute of limitations." If you fail to sue your case with the court within the 4-year period, your case will be thrown out and you will be unable to obtain either a fair settlement or damage award at trial.
Also, if your bicycle accident case involves a Florida government (municipality) defendant and/or vehicle, you must serve a Notice of Claim upon the defendant and State within 3 years from the date of your bicycle accident. You may then sue the municipality in court for your bicycle accident personal injuries and damages. Ask your attorney about when you have to sue. This is the municipality "statute of limitations." If you fail to follow these time-lines, you will be unable to obtain either a fair settlement or trial award against the municipality in Florida.
Please note that, if you are injured in a bicycle accident while you are riding your bicycle in your capacity as a worker or employee, you may also need to file a worker's/workman's compensation claim to protect your rights. You should ask your attorney about this.
Another reason to hire a bicycle accident attorney right away is that memories fade over time. The witnesses will have a different story to tell three months later as opposed to three days later. The evidence can disappear even faster than memories as people drive, walk, and bike through your accident scene. Prompt investigation of the facts by your attorney will help make sure your bicycle accident case's evidence is protected for your benefit.
Finding the Right Attorney for Your Florida Bicycle Accident Case
Do not hire an attorney who is merely a general practice attorney or handles cases in several different areas of the law. The law has become very specialized and you need an attorney who specializes in Florida bicycle accident cases.
In addition, while interviewing possible attorneys to represent you, ask them how many trials they have personally handled in bicycle accident cases. The insurance company will be much more willing to make reasonable settlement offers to settle your bicycle accident case if they know your attorney is an extremely experienced Florida trial attorney in these types of cases.
When you interview possible attorneys, be sure to also ask them whether you will be regularly dealing with them directly, or mostly their junior associate, paralegal, or nurse.
Most Florida bicycle accident attorneys will expect to be paid roughly 1/3, or 33.3%, of any legal recovery you may receive, whether through settlement or trial award. However, you do not have to pay any money out of pocket to hire a bicycle accident attorney to represent you. It is the attorney who pays all of your case's expenses and out of pocket costs up front, such as filing fees and office expenses as well as the hiring of expert witnesses to prove fault (liability), and/or the amount of your damages. Also, you do not have to pay your attorney anything if he is unable to settle your case or win at trial.
It is important to respond quickly to any question or request for information that your attorney sends to you. The faster you respond, the faster they can move your bicycle accident case along. However, if you feel that your attorney does not return your calls, e-mails or texts quickly, you should consider interviewing other attorneys.
Importance of Seeking Medical Attention
If you have suffered a serious personal injury as a result of your bicycle accident, seek medical attention immediately. Some injuries, pain, and limitations are not immediately noticeable and may take some time to develop. In some cases, you may not even be aware that you have suffered an injury at the time of your bicycle accident. But don't worry, your Florida bicycle accident attorney will recommend a doctor to you so that all of your injuries may be properly documented and treated.
Remember, the longer you wait to seek medical attention, the harder it may be for your attorney to relate your current injuries back to your Florida bicycle accident and therefore prove your case.
The Insurance Companies Are Not Your Friends
If you are contacted by a representative of an insurance company, do not respond. The insurance company is not on your side. They want to pay you as little as possible for your bicycle accident. After you hire your bicycle accident attorney, ask your attorney to respond to the insurance company.
If an insurance company makes an early settlement offer to you in order to settle your bicycle accident case, you should understand that the offer will usually be very low and nowhere near the amount you could possibly receive through a later settlement or trial.
Other Important Things to Remember
Be careful – accepting an early settlement offer will prevent you from proceeding with your bicycle accident lawsuit for additional damages against the responsible defendant or defendants. On the positive side, insurance companies usually make much higher settlement offers once a bicycle accident case approaches its trial date, especially if your attorney is known to have a good deal of Florida bicycle accident trial experience.
Please remember that Florida bicycle accident defendants, their insurance companies and their attorneys are focused on only one thing – paying you as little as possible for your bicycle accident. And that's not right. That's why we will do everything we possibly can to make sure you receive a fair damage award in your bicycle accident case.
Although the legal process does not move along as quickly as we would like, we will do our best to push the insurance companies to move as fast as possible and will do everything in our power to make sure your case takes as little time as possible. If you need a strong and dedicated Florida bicycle accident attorney, please call us today to schedule a free meeting.
Frequently Asked Questions | Florida Bicycle Accident Guide
Do I have a bike accident claim?
I got a call yesterday from someone who was injured on a bicycle after being struck by a motor vehicle driver. She wanted to know how her claim differed had she been a passenger or a driver in another car. The main way that the claim differs is that because you're not in a car, if you don't own a car, you may not have access to personal injury protection coverage that would apply to pay for your medical treatment. You may, however, be entitled to, if you don't own a vehicle, to collect from the personal injury protection coverage of the at-fault driver, but first you also need to check out, if you have a blood relative that you reside with who owns a vehicle, you may be able to recover under their personal injury protection coverage. What you need to do, because those claims not being in a car are slightly different, is contact a firm that handles bicycle accident injury claims.
How do I choose the right attorney for my case?
How do you hire the best attorney for your bicycle accident case? You want to make sure, in the state of Florida, that you have an attorney who understands the required coverage because obviously with riding a bicycle, you're not required to have any insurance. The at-fault driver isn't necessarily required to have bodily injury coverage in the state of Florida. You want to make sure you talk to an attorney. Research your attorneys; look online; there are several organizations that rate attorneys. Is your attorney a super lawyer? Is your attorney AV rated with Martindale-Hubble? Is the attorney that you're considering highly rated with Avvo, where different people can get online and rate your attorney? Do your research and make sure you have the best attorney for your bicycle injury case.
What mistakes should I avoid?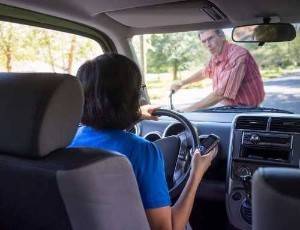 There are probably three main mistakes that you can avoid if you're injured as a bicycle rider by a motor vehicle driver. The first mistake is to talk to the at-fault insurance company. You do not want to give them a statement. The second thing is that you want to make sure that you go get treatment for your injuries, so that you know fully what your injuries are. Don't speak to the at-fault carrier before you know what your injuries are. Don't even speak to the policeman, and tell them you're not injured. You need to be assessed to make sure that you know what your injuries are, and some injuries can be latent. I got a call just last week from somebody who had waited five weeks to call a lawyer, so most of those mistakes had been made before we got a chance to get involved. Seek medical attention first, talk to a lawyer before you talk to anybody else, and make sure that that lawyer is familiar with automobile accidents and bicycle accidents.
Do I have a claim if a pothole caused my accident?
Were you injured after hitting a pothole on a bicycle? Do you have a claim for that? That's a complicated question to answer, but not necessarily impossible. If the pothole is concealed, by being full of water, you probably have a claim. If it's latent or difficult to see and it should be not obvious to you, which would be a complete defense to a claim, then the maintenance department, usually with the county, for that roadway is going to be responsible for that.
I spoke to someone just last week who had received a check from the maintenance department because they hit a huge hole and it didn't necessarily cause physical damage, but it caused a lot of damage to their car, to both the tire and the wheel, and it became very expensive, and the county automatically compensated them for that. You do have a claim for physical injury to your cars, or your bicycle, or your motorcycle, but also for any bodily injuries if the pothole is not open and obvious.
What compensation can I get?
There's several different areas of damage that you can be compensated for if you're injured while on a bicycle by a motor vehicle. If you're just injured on your bicycle through your own fault, you probably don't have a claim. If you're injured by a motor vehicle, you want to make sure that you know what your physical bodily injuries are. If you're now afraid to ride that bicycle or it has some mental impact, you want to get care by a psychologist or mental health provider, if you have mental health damages. If you're out of work, you have lost earnings. If you're taken away from your household and the normal household services that you provide, your children or family members have a claim for that, and your children and spouse also have a claim for the loss of your affections, companionship, and all of those things. Those are all of the elements of damages in a bicycle injury claim.
Will insurance protect me?
Recently, we got a call to our firm from someone injured on a bicycle wanting to know if their automobile coverage provided protection to them if they were injured by a motor vehicle driver. Your personal injury protection coverage, because your injury arises out of use of somebody else's motor vehicle, is going to provide compensation for your medical injuries. You need to seek compensation from the at-fault driver, if there is one, for compensation for your bodily injuries on the whole, and you can get coverage for treatment for your injuries from your insurance company.
Who is liable for the accident?
In Florida, if you're riding a bicycle and you're hit by someone driving a motor vehicle, you have a claim against that driver. There are certain requirements of coverage, but there's no requirement of bodily injury coverage. Because that accident arises out of a motor vehicle collision, if you have uninsured or underinsured motorists' coverage, you still have a claim and may have to make a first-party claim against your insurance coverage. Since this kind of information and inquiry involves an investigation, you want to make sure that you contact a lawyer whose familiar with auto negligence, bicycle accidents, and insurance law.
What if I partially caused the accident?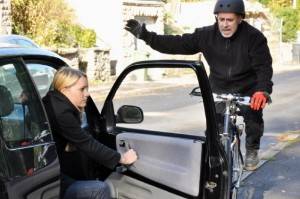 If you're partially at fault for a bicycle accident that arises out of a collision with a car, you can still receive compensation for your injuries. The key is to know what all your injuries are, and then to make sure that you know how the accident is investigated and analyzed, and have a lawyer who can help you investigate that so that you minimize your responsibility and maximize the responsibility of the at-fault motor carrier driver, so that you get maximum compensation. In order to do that, you need to hire a firm that's familiar with claims involving motor vehicles, bicycles.
How long will the case take?
Often, people want to know, "How long is this going to take?" There's no easy answer because all of the time limits depend on your particular case. You want to make sure that your case is handled by somebody who's going to treat you as an individual and not just a number. You want a lawyer that's going to handle your case and not let a case manager or paralegal handle your case. It depends on how long your case lasts, depends on how obvious liability is, how strong it is, the extent of your injuries, and how long it takes for us to know and your medical providers to know how extensive your injuries are. The important thing here is for you to get with a firm, do your research, and find a firm that handles motorcycle and bicycle cases.
How long do I have to file?
Yesterday I was called by someone who was injured on a bicycle. They wanted to know, right off the bat, how long they had to file a claim. Any injury claim in the state of Florida is a four-year claim. You have four years from the time of the accident within which to file a lawsuit to make sure you preserve your claim, but you're not going to have a claim to preserve if you don't hire the right attorneys and you don't go get immediate medical attention for your injuries. Although you have four years, if you wait four years to go get care, it's not much of an injury claim. The first thing you ought to do is make sure that you hire the right attorney so that they can advise you of all the aspects of the law.
Call Our Florida Bike Accident Attorney Today
If you have been seriously injured in a bike accident, please call our Florida personal injury attorneys today for a free consultation. We are here to help you get the compensation that you deserve.