Are you suffering injuries from a bus accident and have questions? Check out these 4 bus accident questions and give our lawyers a call today.
1. I was injured as a passenger on a bus in Tampa Bay, what should I do?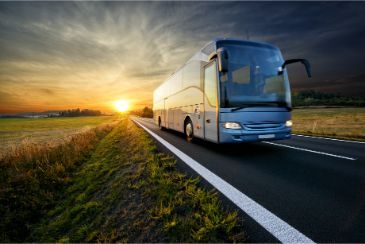 We got a call just last week from someone who was injured in a bus accident. She wanted to know what things she should do next for her case. The first thing that you want to make sure you do before you leave the bus is to let the bus driver know or someone at the scene know that you were injured. The next thing you should do is to contact an attorney, which she had already done. Let me just clarify that by saying that if you are leaving the scene – you've let someone at the scene know that you're injured, if you need immediate medical attention, have them get it for you. Have them summon the paramedics so that you can get medical attention. If you feel like you can seek medical attention on your own, make sure you let someone at the scene know you're going to seek medical attention because you feel like you might've been injured or you are injured.
Then contact a lawyer immediately. We can help guide you through the steps that you should take. It wasn't too late for the lady who called. She had just left the scene. We contacted the bus company, let them know that she had contacted us, she was injured, and to correspond with us. We made sure that we contacted her insurance company, her health insurance, so that we knew what her injuries were, we knew what her coverage was to be able to get her compensation and evaluated for her injuries, so all of those things can be done when you contact a lawyer. If you're not sure what to do, don't leave the scene without reporting your injury and what has happened, but then contact a lawyer immediately.
2. How do I select the best bus accident attorney in Tampa Bay?
We handle a number of different kinds of accident cases at Morgenstern & Herd. One that's unique is a bus accident case. If you're on a bus in the Tampa Bay area, for example, in Hillsborough County, they call it HART, and most of you are probably familiar with that, the Hillsborough Area Rapid Transport Company. That's a governmental entity, so there are special nuances that apply to the law in that case. Your attorney's fees are lower, but you also have a cap on your recoverable damages.
In order to select the best attorney to handle your bus accident case if you are riding on a bus and that bus is involved in an accident is to contact an attorney like our attorneys here at Morgenstern & Herd who have handled numerous bus accident cases. Do your research. Look online on the websites, but don't just trust the lawyers' websites. Look them up in the Florida Bar. Make sure they have good ratings and ask. You are permitted under the bar rules and when you get a client statement of rights, that statement of rights that the bar requires us to give you in personal injury and bus accident cases tells you that you have the right to ask whatever you want to know about the qualifications of the attorney you're hiring. Do it, and if you're not satisfied, seek an attorney who has the qualifications that you feel your case deserves.
3. How long is it going to take to resolve my bus accident injury claim in Tampa Bay?
One of the things that our clients often ask us is how long it is going to take to resolve their bus accident case. That is so variable, but we explain to you all along the way what is happening. Right now, we're all under the umbrella of COVID. There haven't been jury trials in our area in so long that it's difficult to predict how long we'll go. There are several stages before you get to filing a lawsuit, so often, if you contact us at Morgenstern & Herd and let us guide you through the treatment for your bus accident case, we can submit a demand. After you obtain your treatment, we gather all of the information including your prior healthcare treatment, if any, to show that these injuries are truly related to your bus accident claim.
We submit that to the insurance company who's at fault for causing the bus accident, and we try to get you a resolution early rather than later because it costs less. There are less expenses, there's no lawsuit filing fee, and the attorney's fees are less than they would be if you file a lawsuit. The insurance company's not fair with you, then we file a lawsuit. Then, the party causing the bus accident has the opportunity to admit responsibility and keep your fees and expenses lower, but rarely they do it. Once we file a lawsuit, then you have an opportunity to exchange paper discovery. They get to ask written questions. We ask written questions. The next stage is depositions. You have your deposition taken. We take the at-fault party's deposition. We do those things by Zoom right now, which is very, very effective and almost flawless. Then you go to mediation.
If the insurance company who causes the bus accident still isn't being fair with you, then we have to begin to move in the direction of trial. A new Supreme Court order came out today in Florida trying to streamline that process and get more cases to resolve. We, however, have a very high success rate of resolving cases without trying them here at Morgenstern & Herd, and that's because we push the litigation forward, we stay on top, and we make the insurance company's lawyers do work. That costs the insurance companies money. That causes them to put more money towards your claim because they know they're going to have the pay the lawyers, and they know that we'll file cases and try to put ourselves in a position where we can get our attorneys' fees rather than from your recovery from the at-fault party. If you have a question about how long your case is going to take, bus accident case, personal injury case, call us at Morgenstern & Herd.
4. If my child was injured on a school bus in Tampa Bay, can I sue the school?
At Morgenstern & Herd, we've handled several cases involving child injuries on a school bus due to the actions of other students. When that happens, the only way to make a recovery for compensation for your injuries is if the school authority had notice that the child causing the injury was a problem. In that case, often, you can make the case that the child shouldn't have been on the school bus where they could have taken action or bodily injury against your child. The first thing that you should do is make sure you seek care and treatment for your child in that situation so that you know what the injuries are. Then call a lawyer. It's a complicated process to give the schoolboard appropriate notice if an injury occurs on the bus itself not due to a specific accident but due to the actions of another child.
If your child is injured on the bus because an accident occurs from a driver, another driver, drive of a truck, driver of a car, you still should have your child seek immediate treatment and then call an attorney. In the case where your child is injured on the school bus through the actions of another driver, we can check to see if there's insurance coverage on the part of that driver for bodily injuries. Drivers are not required in the state of Florida to have bodily injury coverage. Many do. Many do not. We have to check that out and then also check out your insurance coverage to see if we can get your child compensation for injuries sustained on a school bus.
---
Were you or a loved one badly injured in a crash with or on public transportation and have questions? After looking at our 4 bus accident questions, contact experienced Tampa Bay Bus Accident Attorneys at Morgenstern & Herd today for a free legal consultation and case evaluation.
Like Us on Facebook